So recently, we had a lot of people asking us How To Create WordPress Website.
We came up with this tutorial to help you create your first website, we hope you enjoy, and good luck!
1. Get Your Website Domain
Before you are jumping to styling your website and making it look like you want, first, you need a domain.
You are probably asking, what is a Domain?
Domain = the URL of the website, like tipsandcoffee.com or google.co.uk .
Tip: find a domain that describes the content you want to show. (e.g if you want to sell dog food, try "dogfoodglobal.com" or "doggyfood.net" etc.)
You can check domains availability in the form below, just enter the domain name you want and you will be redirected to bluehost.com to see if the domain is available.
If the domain is available, you will be redirected automatically to registration page, and if the domain is already taken, you will have to find another domain that isn't taken.
Type the domain you want here:
2. Register
Now, after you chose your website domain name, We will start teaching you how to create WordPress website in this simple tutorial:
So let's start!
First step: Enter your details
Now you Select Package (We recommend choosing the cheapest one if you are a beginner)
and Enter Payment information
And Wooala! You are done with the second step!
3. Install WordPress on your domain
After you are done with the registration, follow these instructions:
Click on "Create Your Password" to choose a password for your website.
* It is important to remember it, so write it down somewhere.
After choosing a password, go to the dashboard:
And click on "Install WordPress":
Now, Choose the domain to install WordPress on:
Then Click "Next":
And you are done! You have WordPress installed now!
This is a huge step, and by now you are half way done on learning how to create a WordPress website.
Now you can see in the image below, the WordPress login details (id and password). It is important to save it somewhere because this is how you log in to your WordPress admin panel.
To enter your website click on "view credentials"
Now, After you are done, Log in with the password you chose earlier:
And you are done!
You learned how to create WordPress website! wasn't that easy?
Your Website is ready to use and you can start modifying it!
This is your WordPress admin panel where you can change the theme, add new posts, modify pages etc.:
* You can always go to this page by entering: http://<YOURDOMAIN>/wp-admin
Replace the <YOURDOMAIN> with your domain. e.g: http://tipsandcoffee.com/wp-admin
Pro Tip (After you done this tutorial on how to create WordPress website):
It is highly recommended to create a website logo. It will make your website look more professional and you can make a Facebook page with this logo to make people visit your website! We highly recommend Fiverr. If you want to know more about fiverr and the services you can get in fiverr, click here.
Create a logo on Fiverr for 5$: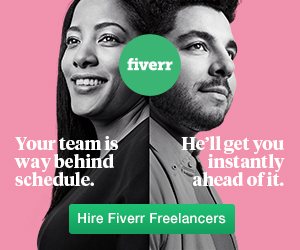 What is Fiverr? + 10 Top Services to Buy On Fiverr!
We hope you learned how to create a wordpress website now!
Share your website on the comments section below to get traffic into it!
If you have any questions, feel free to Contact Us!