Tips and Coffee proud to present you this article about the top services you can get on fiverr.
Whether you own a business or you just need some help with your work, Fiverr is the best place to go where you can get things done fast at prices that will surely fit your budget. With most of the services starting at a basic price of $5, it is easy to see why the platform has quickly become a favorite among business owners and individuals coming from different parts of the world.
Below are 10 services that you can easily get on Fiverr at only $5:
Fiverr can be considered as an effective secret weapon for all those small business owners who have limited budget but have lots of things to do. If designing logos is not your cup of tea, Fiverr has sellers who specialize in this specific field, and they will be more than happy to lend a helping hand.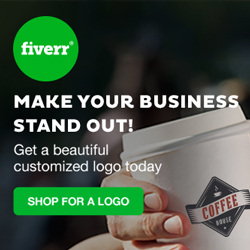 Blog posts are as important as your website content, and you can find someone who will write and even publish short articles regarding your company, its products, services, and other things related to it.
Running a website means filling it with updated and high quality content every now and then, and Fiverr can help you do exactly just that. Here, you can find a lot of content writers who offer their expertise and skills to ensure that you will get the articles you need with no need to break the bank.
It could take you hours to design your business card if you start from scratch. Good thing that there are lots of Fiverr sellers who just require your input as to what will be placed on your card, and they will take care of the rest for you.
In the same way that your podcasts need a good intro or outro, your personal videos must also have a captivating end and beginning. Whatever your requirements might be, you can be sure that you will find someone who can do an amazing job for you.
You can also go to Fiverr to set up your professional voicemail greetings for your business. This is one service that the platform is best known for. Gone are the days when you had to spend $100 for a professional greeting as you can now get it for $5.
Nothing beats the convenience of having someone who can produce your podcast's intro and outro to let you connect with your target audience, making this service worth every penny.
Voiceover gigs in Fiverr let you enjoy the benefits of professional work that can be in any accent you like. Whether you need it for your business or for personal purposes, a good voiceover can go a long way.
As Facebook now has over billions of users, you have to ensure that once people visit your company page, they will be greeted with a well designed, trustworthy, and professional cover image. You can commission someone on Fiverr to help you come up with an image that will captivate more potential customers and keep the existing ones.
For those who need illustrations for their logos or others, Fiverr abounds with designers who do things such as drawings, blueprints, caricatures, and others.
We hope that this list helped you understand more about the Services you can get on fiverr.
As always, If you have any questions or you want to know more about services you can get on fiverr, you can always contact us at the Contact Us Page.
Tips and Coffee would love to help you on any subject!